Photographing iconic Monument Valley is a daunting task. What can one capture, that hasn't already been done?
Perhaps the reason for photographing the valley is a more personal one. One of exploration and wonder. Mine certainly was.
I didn't have the dazzling, clear skies one usually associates with these lands. And perhaps that was for the best. Because I saw a more mystical valley, shrouded in fog and cloud.
And then it all lifted.
The morning of my departure I was treated with the colors of the desert at sunrise, the Mittens shrouded in golden morning sun.
Photographing Monument Valley
In researching the Valley, it became apparent that without a Navajo Guide, one was restricted to the 17 mile drive. Which is fantastic. It's a must do. But I wanted more.
I chose to work with Phillips Photography and I'd choose them again. My Guide, Tully Begay was incredibly knowledgeable, not just about places for photography, but also for the history of the area. They've guided groups such as National Geographic when they did their Discovery segment on the area, and they offer a glimpse of the valley that is truly special. 
If you visit, beware the open air bus tours of the valley. They're frigid in winter and hot in summer, and always packed with tourists. It may be a way to spare your car's suspension driving the rutted valley road, but I'm not sure it's worth it. 
But then again, to each his or her own.
Give me something off the beaten path.
I hope these photos convey some of the magic I experienced in and around Monument Valley.
Beyond Monument Valley: More Photography of The American West
The Art, Culture and Beauty of Santa Fe
The Mesas, Buttes and Badlands of Bisti Wilderness
The Puye Cliff Dwellings: Earth, Spirit, Fire and Art
Georgia O'Keeffe Country: Abiquiu
Road Trip: The Old American West
Photo Mission: Winter at Taos Pueblo
Like This Post? Pin It!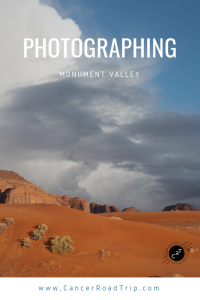 If you're interested in learning more about photography (or cooking or film or any number of topics) check out MasterClass All-Access Pass for on-line excellence:

What is #CancerRoadTrip and how did it come to be? Read this post to get the backstory! 
Follow me on Twitter, Pinterest, Instagram, and at Anti-Cancer Club.  Connect with me!  I may need a place or two to stay along the way!